On the last weekend of May, the LFV's new permaculture vegetable garden finally found its place inside the paved courtyard of the Sadyba school to everyone's delight. Starting from July, the first strawberries and the first small vegetables will be ready to be harvested. The aim of this garden is to make the preschool children discover the secrets of farming and to allow them to have constant contact with nature.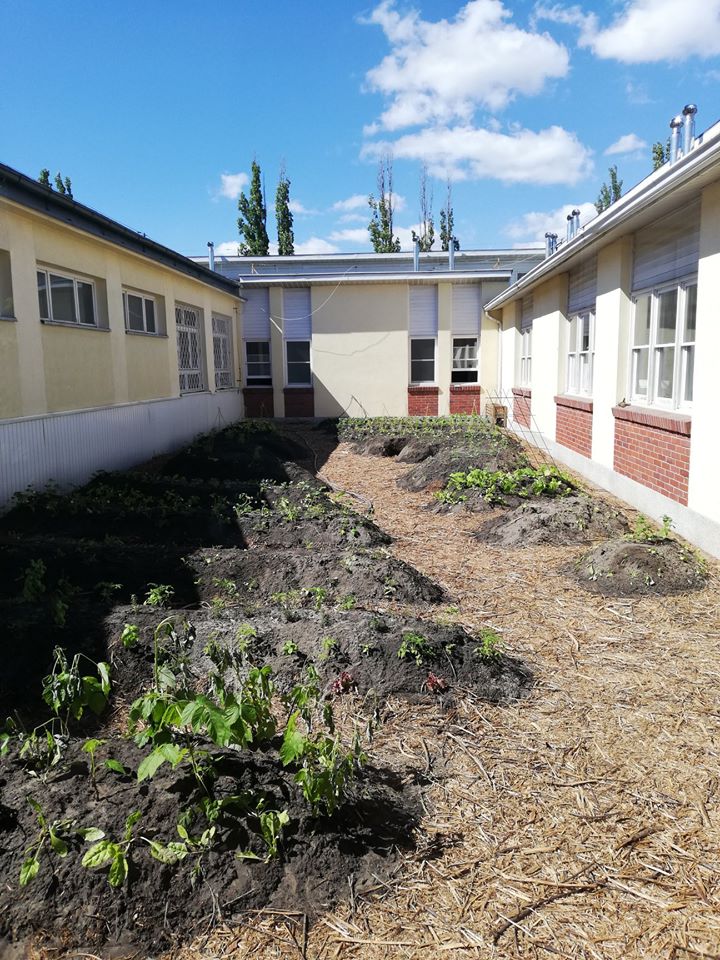 This permaculture vegetable garden is the result of two ambitions: on one hand, it was the dream of the members of "Varsauvons la Planète" (a project of the association Varsovie Accueil) to create a shared vegetable garden. And on the other hand, our preschool teachers were willing to launch a new pedagogical project for preschool children around the secrets of farming. Together, they have teamed up to create a garden open to all at the heart of the school.
Because of the lockdown, the seedlings could not be planted as planned by children. So "seedling carers" volunteered to take charge of them. Week after week, they took care of the many new sprouts and helped the growth of radishes, peas, carrots, lettuce, broccoli, chard, cucumbers, spinach, tomatoes…
To create the garden, 40 m3 of soil, 20 m3 of wood debris, 1500 young plants and many long hours of hard work were needed. The garden will keep evolving and will be enriched in the future with new projects initiated by our teachers and the entire educational community of the LFV. This is just the beginning of the adventure!
The LFV would like to sincerely thank its partner Varsovie Accueil, as well as its sponsor, the Veolia Foundation, without which this project would not have been made possible.Our thanks also to Łukasz Nowacki for its expertise in permaculture, and to our Terminale students who volunteered to help create the garden in spite of the rain: Nicolas CHAUVEAU, Mieszko JANIW, Antonina JESSA JABLONSKA, Mila MOREAU, Stanislas PRIEUR DE LA COMBLE, Karolina WACHOWSKA, Alexandra WOJCIK.
Congratulations to all!