From November 28th to December 3rd, 2022, the LFV participated in the "French Schools Abroad Week" (LFM Week) organized by the AEFE – Agency for French Education Abroad. This year's edition focused on media, through the theme "Informing ourselves in a connected world to shape enlightened citizens". On this occasion, several activities were conducted with our students and teachers from Sadyba and Saska Kępa.
Throughout the AEFE network, educational teams from French schools abroad got together to help students develop their knowledge and skills in the field of media. The goal was to enable them to use information critically and creatively, both in their daily lives and in their academic studies.
Knowledge of media and information is an important aspect of the French curriculum, starting from primary school. These teachings contribute to shaping the active, informed, and responsible "cybercitizens" of tomorrow.
AT THE END OF NOVEMBER, OUR THREE CE2 CLASSES EMBARKED ON AN AMBITIOUS PROJECT: LAUNCHING THEIR OWN RADIO SHOW!
Before recording their project, our students had to imagine it first. The first step was for them to learn about radio by actively listening to radio shows for children, and then brainstorm ideas and write their script.
Once their concept was established, it was time to work on the first episode! Using a dictaphone, our CE2 students first recorded their text in the classroom. Then, all they had to do was add sound effects to it!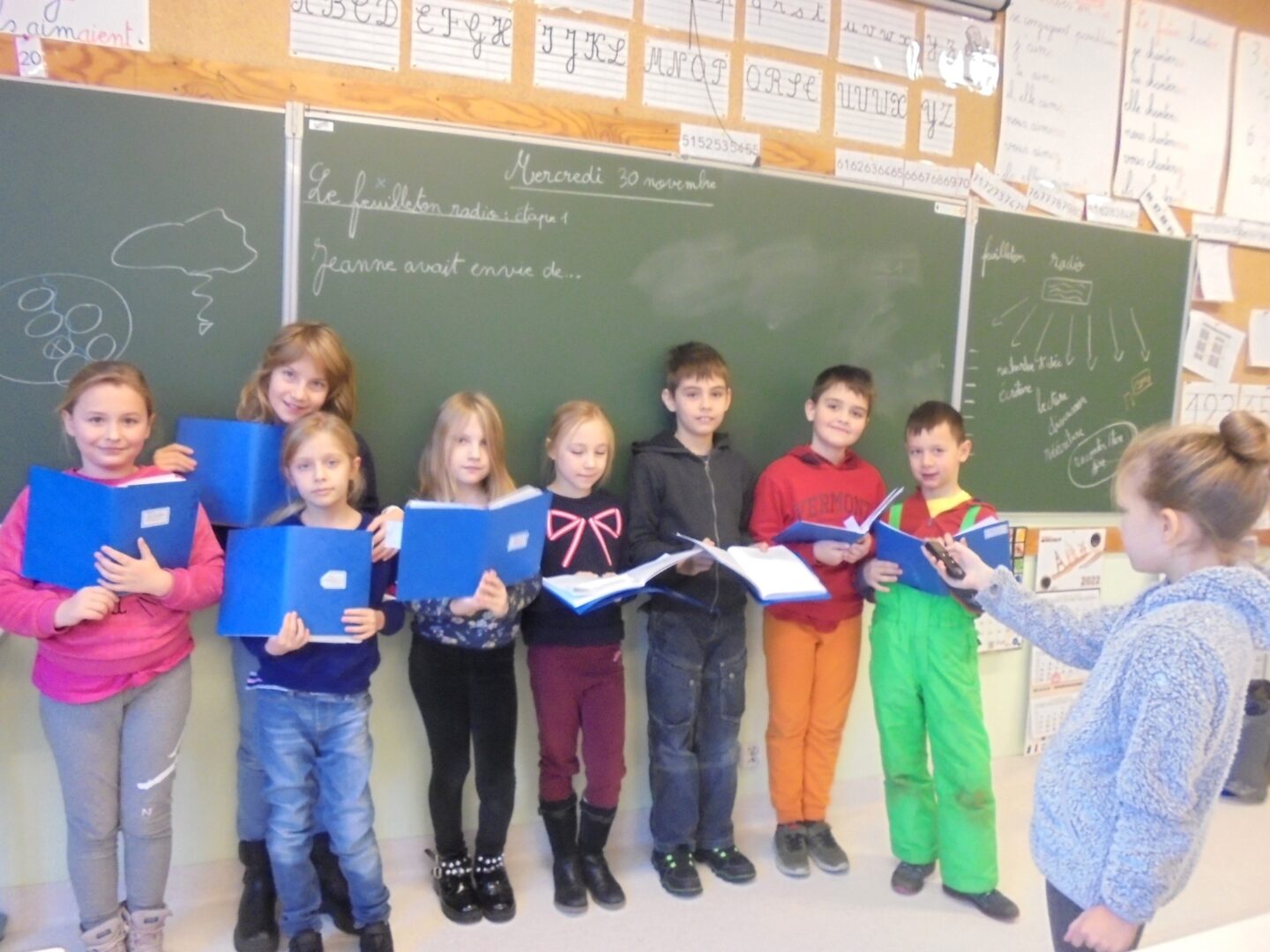 OUR CM2 AND 3ÈME STUDENTS EXPLORED THE HISTORY OF THE WORLD CUP AND ITS ASSOCIATED INTERNATIONAL MEDIA LANDSCAPE
During the LFM Week, our CM2 B and CM2 C classes had the opportunity to visit an exhibition on the World Cup prepared by their older 3ème classmates in Saska Kępa.
In order to introduce this very important event to their younger peers, our middle school students created a retrospective exhibition of the various editions of the World Cup from 1930 to 2018, connecting them to historical events of the time.
To make it more playful, they even prepared a quiz for our CM2 students, who had fun hunting for hints! This exhibition allowed our students to understand how the World Cup has always been a geopolitical tool and a lever of economic and media influence on the world stage.
OUR CM2 B STUDENTS LEARNED TO DETECT FAKE NEWS WITH A JOURNALIST
Our CM2 B class had the opportunity to meet with a French journalist engaged in the Fake Off association, which fights against disinformation: Nadjet Ghemzi!
For two hours, our students participated in a video conference with her to discuss various topics related to media and information/disinformation. They covered themes such as:
"What are the differences between information, rumors, and anecdotes?"
"What questions should we ask ourselves to evaluate the credibility of information?"
And also, "Can we believe everything we read on social media?"
This meeting allowed our students to gain the skills to detect fake news and develop good practices for verifying information.
OUR STUDENTS OF TERMINALE CLASS DISCUSSED BOYCOTT AS A POLITICAL AND ECONOMIC TOOL
On November 29th, our Terminale students had the pleasure of welcoming Philippe Morisset, Education Attaché at the French Embassy in Poland, for a round table discussion on the theme: "Sport, Politics, and Economy: Boycott in Perspective."
The organization of the World Cup in Qatar, which coincided with the LFM Week, allowed the students to question the political, diplomatic, and economic implications of hosting major global sports events.
They also had the opportunity to discuss the theoretical and practical implications of a boycott, while considering the roles of states, media, non-governmental organizations, and public opinion.
OUR CM2 C STUDENTS TOOK PART IN A WEBINAR TO LEARN MORE ABOUT JOURNALISM
During the LFM Week, our CM2 C students had the exciting opportunity to participate in a Webinar organized by one of France's major news radio stations, Franceinfo.
In this Webinar, Estelle Faure, a journalist at Franceinfo, along with Rémi Chaurand and Agathe Guilhem, journalists from Astrapi, provided insights into their famous podcast "Salut l'info!" and shared their insights as journalists.
– What is information?
– How to check news' veracity?
– What is a source?
These were some of the questions the journalists were able to answer to help our students pass the online quiz focusing on news that was waiting for them!