Asia and Rob Markus are the proud parents of Meike, Casper and Lucas. Of Polish-Dutch origin, they decided to enroll their three children at the Lycée Français de Varsovie after living in France for 6 years. Today, they explain why they chose French education for their children, and above all, how this decision has benefited them in the pursuit of their studies…
AS A POLISH-DUTCH FAMILY, WHAT MADE YOU CHOOSE THE FRENCH EDUCATION SYSTEM FOR YOUR CHILD?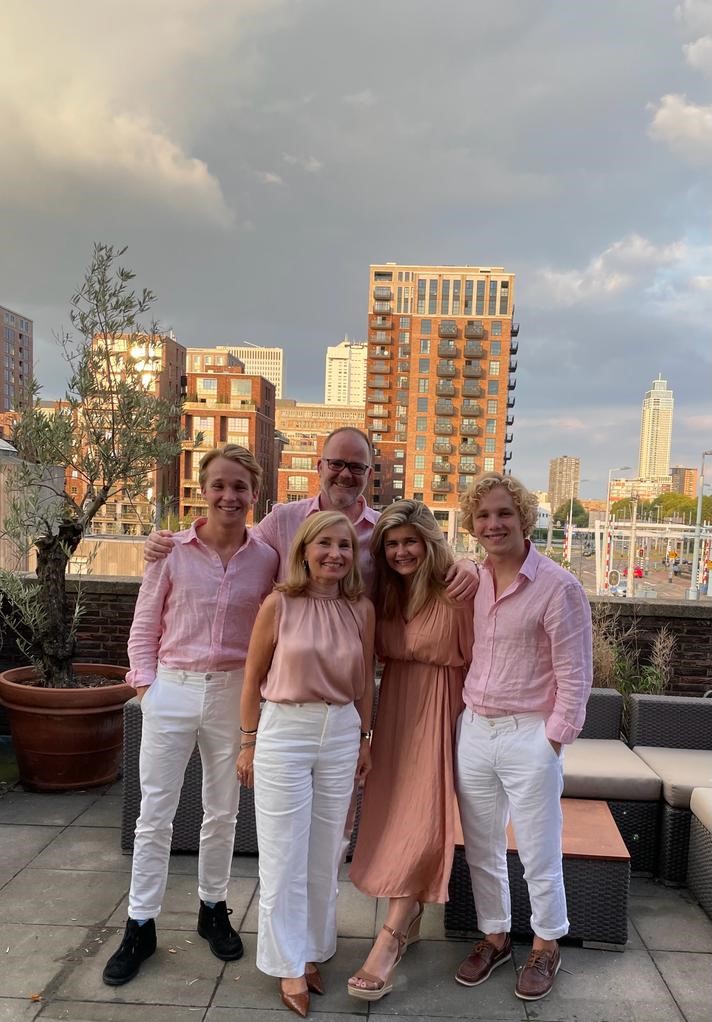 We spent 6 years living in France before moving to Poland. This is why we wanted our children to continue their education in a French-speaking school in Warsaw.
WHAT DO YOU CONSIDER TO BE THE MAIN ASSETS OF THE LFV?
In our opinion, the greatest strength of the Lycée Français de Varsovie is that its curriculum is defined by the French Ministry of Education. This has enabled our children to progress steadily despite our move from France to Poland.
Another thing that really appealed to us was the fact that the LFV also teaches Polish, which isn't the case in all international schools. We believe this to be very positive, not only because our children are half Polish, but also because it brings honor to the country in which we live.
What's more, we're delighted that they've been able to learn another language!
WHAT DO YOU THINK WERE THE MOST MEMORABLE EXPERIENCES FOR YOUR CHILDREN DURING THEIR YEARS AT THE FRENCH SCHOOL? AND FOR YOU AS PARENTS?
Our children have fond memories of their extracurricular activities, which include soccer and music. They also particularly enjoyed the trips abroad they took part in (notably to Rome and Berlin), as well as the Studniówka which marked their final year at LFV.
Overall, I can say that our children have great memories of their school days. When they talk about their school experiences, it's always a great story!
Most of the teachers were dedicated, genuinely interested in their students' success, and so did a fantastic job. My children, however, didn't always appreciate the large amount of homework they had to do.
As parents, we also deplore certain changes in the education program that have been decided by the French Ministry. For example, when Lucas took his baccalauréat exams, math was suddenly removed from the curriculum. What's more, in PE, theory has become more important than practice. But these are not things we can reproach the LFV for!
WHAT HAVE YOUR CHILDREN BEEN UP TO SINCE?
Our children are doing very well. The eldest, Meike, is 24 now, and last year graduated from the University of Amsterdam with a Master's degree in Business Administration, specializing in Human Resources. She now works as an HR consultant at EY in Rotterdam.
Casper, 23, has just graduated (partly thanks to the preparatory work he did with his LFV economics teacher) with a degree in Business Economics. In March, he began studying in Italy for his Master's degree in "Food, Culture, Communication and Marketing" at the Università di Scienze Gastronomiche di Pollenzo.
Lucas, 19, is currently studying Public and Technical Administration at Delft University of Technology. He's making the most of his student life while achieving good results. What more can you ask for as a parent?
How has their schooling at the LFV helped them in higher education?
All three are now very disciplined. The LFV has taught them to be well organized (the only advantage, according to them, of having had a lot of homework) and they have acquired an enormous amount of knowledge.
On the other hand, old-fashioned classroom teaching has not taught them to be sufficiently critical of the materials they are presented with.
How have they been able to learn Dutch alongside their schooling? What role do Dutch language and culture play in your children's lives?
We tried to find solutions for Dutch outside the LFV. It was sometimes difficult to combine learning it with the LFV program, but we managed quite well.
Casper was the only one to study in Dutch in higher education, which wasn't easy at first. Meike and Lucas were initially taught in English, which gave them more time to familiarize themselves with Dutch. And it paid off!
Since then, Meike has been working in a Dutch-speaking environment and Lucas has started to take some subjects in Dutch.